あなたの支援が必要です!

© Natalie Bowes / WWF-Canada

1年間その支援を継続すると…

南米のチリで海の大切さを伝え、地域の人たちにも
その保全に参加してもらう普及活動を
1回実施できます。

© Vladimir Filonov / WWF

1年間、その支援を継続すると…

野生のトラが生息する東南アジアの森で行なう
カメラトラップ調査のトレーニングを
実施できます。

© Ola Jennersten / WWF-Sweden

1年間、その支援を継続すると…

スマトラの熱帯林で、
違法伐採や野生動物の密猟を防ぐパトロールを
14日間、支えることができます。

© Natalie Bowes / WWF-Canada

毎月この金額を一年ご寄付頂くと…

南米のチリで海の大切さを伝え、地域の人たちにも
その保全に参加してもらう普及活動を
1回実施できます。

© Vladimir Filonov / WWF

毎月この金額を一年ご寄付頂くと…

野生のトラが生息する東南アジアの森で行なう
カメラトラップ調査のトレーニングを
実施できます。

© Ola Jennersten / WWF-Sweden

毎月この金額を一年ご寄付頂くと…

スマトラの熱帯林で、
違法伐採や野生動物の密猟を防ぐパトロールを
14日間、支えることができます。

会員になる(毎月支援)
寄付をする(1度だけ支援)
Forest Seminar Report: Sustainable Production and Procurement of Natural Rubber
---
On Friday, July 7th, 2017, WWF Japan held a forest seminar entitled "Sustainable Production and Procurement of Natural Rubber." A variety of resources derived from the natural environment, including oceans and forests with rich biodiversity are essential to our daily lives and business. This seminar was held aiming further moves in the Japanese market to pursue sustainability in respect of such resources, natural rubber, whose production is forecast to continue growing.
Sustainable Production and Procurement of Natural Rubber
WWF works globally on forest and ocean conservation. It has also devoted considerable energies to develop schemes for ensuring sustainability of forest and fishery products derived from natural resources, which takes into account surrounding ecosystems and local communities.
In forests sector, particularly, a lot of initiative for better management has been in practice regarding products seriously associated with deforestation -- namely timber, pulp and paper, and palm oil. In recent years, in addition to these products, natural rubber has also become one of these commodities that need traceability and careful consideration for forest ecosystems.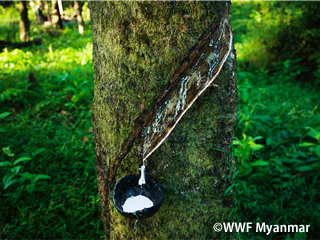 Examples include the global partnerships announced between WWF France and global tire manufacturer, Michelin in 2015 and between WWF Japan and Toyota Motor Corporation in 2016, as well as the commitment made by General Motors in 2017 to procure sustainable natural rubber.
One of factors behind these is that natural rubber production is linked to deforestation mainly in tropical regions.
Collaboration between various stakeholders including local farmers and communities, governments, NGOs, and companies that procure natural rubber is required in order to expand sustainability initiatives both at production sites and in the market. Against this background, WWF Japan held the "Sustainable Production and Procurement of Natural Rubber" seminar in Tokyo on Friday, July 7th, 2017.
This seminar aims to accelerate the movement toward sustainability from the market in Japan, which has many companies and organizations involved in the supply chain of natural rubber. The following provides an outline of the presentations at the seminar.
Overview of the Forest Seminar: Sustainable Production and Procurement of Natural Rubber
| | |
| --- | --- |
| Date | Friday, July 7, 2017 13:30-17:00 |
| Venue | Room 285, Surugadai Memorial Hall, Chuo University (3-11-5 Kandasurugadai, Chiyoda-ku, Tokyo) |
| Participants | Around 120 people |
| Organizers | WWF Japan |
---
Content of each presentation
Presentation 1. Forest Conservation and Sustainable Use
Sadayoshi Tobai Conservation Director, WWF Japan
WWF Japan firstly explained about the status of global forest resources and the main causes of deforestation. Especially, it introduced examples of deforestation due to illegal or unsustainable plantation development to harvest palm oil and the raw materials for paper, as well as the resulting impacts on wildlife and social conflict with local communities.
In this presentation, WWF initiatives for expanding "Sustainable Markets" that have been undertaken by WWF around the world over many years was explained.
Rather than just opposing the use of natural resources, these initiatives focus on achieving a balance between conservation and use based on scientific evidence, aiming to ensure sustainable production that also takes into account local communities and labors' rights, as well as encouraging to consciously choose goods produced in such ways.
Then, recent developments relating to natural rubber were pointed out. In some areas, illegal logging, land grab, in-appropriate land trading, and land development for the purpose of expanding agricultural land for natural rubber plantations and other purposes in areas where rich natural forests are still remaining have led to the loss of rare ecosystems.
At the same time, the movement to establish a new platform to accelerate sustainable production and use of natural rubber was introduced. Expectations were expressed to Japanese companies in this seminar to participate in it proactively, as the participation and collaboration of the many of stakeholders in the natural rubber supply chain is essential.
Elements of "Sustainable Natural Rubber" required in the new platform
Full Traceability
Protection of High Conservation Values (HCVs)
Protection of High Carbon Stock (HCS)
Respecting Free, Prior and Informed Consent (FPIC)
Ensuring transparency
Respecting human rights and labor rights
Regular audits by third-party organizations, etc.
Presentation 2. Examples from Production Countries
Sudarat Sangkum, Agri-Forestry Project Manager, WWF Thailand
Gaurav Gupta Sustainable Business Manager, WWF Myanmar
Aditya Bayunanda, Director of Policy, Sustainability and Transformation, WWF Indonesia
The second presentation featured specific initiatives in major natural rubber producing countries Thailand and Indonesia, and also Myanmar, where the production areas has reportedly been expanding lately. Each presentation was given by WWF speaker in charge of forest conservation and natural rubber production projects in these countries.
To start with, the WWF Thailand explained that the expansion of palm oil and natural rubber is causing natural forest loss in Thailand, with some production actually taking place in national parks, which are protected by law.
In addition, it was noted that natural rubber trees are a species that are useful throughout their life-cycle, because once they no longer produce sap suitable for harvesting, they can be used as timber, wood chips, or fuel. As such, there are natural rubber trees certified under the forest certification scheme by FSC® in relation to their use as timber, wood chips or pellets, but not natural rubber sap yet.
The speaker also reported that although smallholders account for the majority of production, they do not have adequate knowledge of plantation management or efficient production. Accordingly, WWF Thailand is currently working with the Thai Rubber Association and governmental organizations to set standards for improving plantation management.
Following WWF Thailand, WWF Myanmar presented about the rich forest ecosystems in Myanmar, which has experienced rapid development in recent years, the diverse ethnic groups who live with those forests and natural rubber production, which has become a means for local people to earn a living.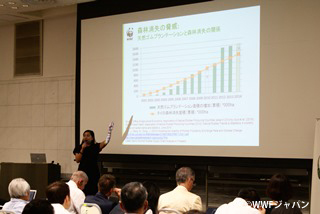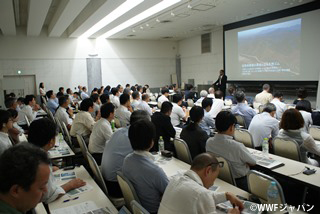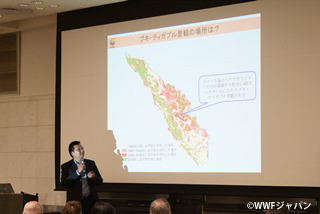 The speaker noted that a complex array of issues -- including poverty, limited ways of livelihood, and a lack of information and experience in various aspects -- drives natural rubber production the biggest threat of deforestation in Dawna Tenasserim Landscape, one of the biggest natural forest landscapes in Southeast Asia. It was also pointed out that such situations lead illegal wildlife trade such as poaching.
Then, WWF Myanmar highlighted collaboration initiatives with stakeholders including local communities, producer associations, and governmental organizations. In the end, he called on seminar participants involved in the natural rubber market in Japan to undertake sustainable procurement from the market side, which would provide impetus for positive moves in Myanmar.
WWF Indonesia presented about their collaboration project with Michelin, which is the first tire manufacturer to develop "Sustainable Natural Rubber Policy" and committed "Zero Deforestation". The project is being undertaken at a production site in central Sumatra in Indonesia. The Bukit Tigapuluh landscape is a rare natural forest landscape where endangered species such as Sumatran elephants and Sumatran tigers are alive. Over the last 10 years, the natural forest there has been almost completely destroyed illegally, and changed to oil palm plantations for producing palm oil.
From of this situation, it was explained that the joint project in natural rubber plantation plans to protect and restore the natural forest, with relevant land users and managers working together to develop a land use plan that also gives consideration to wildlife.
Lastly, WWF Indonesia noted that although Indonesia has already lost large natural forests, many of companies involved in palm oil and paper industries that were major contributors to this have procurement policies and committed to "Zero Deforestation". In addition, he suggested that natural rubber industry in Japan to develop its own procurement policy, ensure traceability, and work with stakeholders not to repeat the history in other regions.
Presentation 3. Examples of Corporate Initiatives
Luc Minguet, Senior Vice President and Chief Procurement Officer, Michelin
Edouard De Rostolan, CSR Manager, Michelin
In the third presentation, representatives of global tire manufacturing company, Michelin, provided their industry initiatives.
First, Luc Minguet, Senior Vice President and Chief Procurement Officer, outlined Michelin's Sustainable Natural Rubber Policy, which was announced in 2016. Most notably, in relation to "Section 2. Protecting the environment", he spotlighted legal compliance, protection of primary forests, and protection of High Conservation Value (HCV) and High Carbon Stock (HCS), based on the principle of "Zero Deforestation". In addition, regarding "Section 5. Practicing good governance", he talked the company plans to ensure the traceability of natural rubber throughout the supply chain.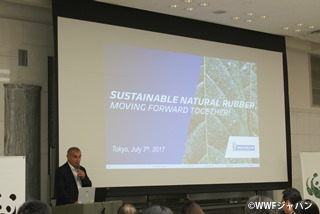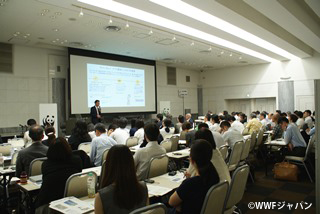 The Five Themes of the Michelin Sustainable Natural Rubber Policy
Respecting people

Protecting the environment

Improving farming practices

Carefully using natural resources

Practicing good governance
Then, a new platform for expanding sustainable natural rubber, which will be discussed more seriously with stakeholders was introduced.
Following the first presentation from Michelin, CSR Manager, Edouard De Rostolan, spotlighted the implementation side, outlining "Rubberway" smartphone application developed in 2017 to assess environmental, social, and labor practices throughout the natural rubber supply chain.
"Rubberway" is to gather information and understand situations of production sites. It can ensure traceability in the complex supply chain by using questionnaire that traces rubber from the middle of the supply chain (natural rubber processing factories) to the intermediaries (traders and collectors), and then to the natural rubber farmers.
Examples of questions and response options when the respondent is a smallholder
Question: How do you handle complaints from workers? (more that one answer may be selected)
Response options:
1. Workers never complain.
2. Face to face
3. Workers representation / Workers consultative group
4. Workers' supporting group-Third-party
Question: Do any children/member(s) of your family below 13 years of age* work at the farm, instead of going to school? (*or the legal working age in your country, if above 13)
Response options:
1. Yes, we rely on/need their help/there is no school located nearby.
2. Yes, they help when activity levels are high at the plantation.
3. No, they go to school, but they help after or before.
The questions differ according to the position of the respondent, the information gathered via the questionnaire is scored automatically against predetermined KPIs and the resultant evaluation can be visualized.
In the end, he added that rather than keeping "Rubberway" for Michelin alone, they plan to make the application available to the whole of the natural rubber industry in 2018, so that it can serve as an independent tool managed by a third-party organization, without being associated with a particular company.
4.Panel Discussion: Expanding Sustainable Natural Rubber
In the panel discussion after each presentation, all of the speakers took part as panelists, answering questions from the audience and discussing future approaches and expectations to the market.
During the discussion, it was noted that although a lot of specific initiatives for sustainable natural rubber and common points in future direction were shown, tracing the supply chain and ensuring sustainability of natural rubber were still limited when considering the scale of the production and the whole market.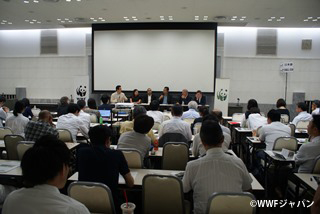 Therefore, there is a need to change ways of thinking and more participation of stakeholders, even if it may takes longer time.
In addition, the WWF speakers from producing countries again called for cooperation from the influential Japanese market -- where many global tire and automobile manufacturers have a presence -- to remedy the various issues at natural rubber production sites.
人と自然が調和して
生きられる未来を目指して
WWFは100カ国以上で活動している
環境保全団体です。