あなたの支援が必要です!

© Natalie Bowes / WWF-Canada

1年間その支援を継続すると…

南米のチリで海の大切さを伝え、地域の人たちにも
その保全に参加してもらう普及活動を
1回実施できます。

1年間、その支援を継続すると…

ロシアでケガをしたトラを
野生復帰させるためのリハビリ活動を
6日間、支えることができます。

© Ola Jennersten / WWF-Sweden

1年間、その支援を継続すると…

スマトラの熱帯林で、
違法伐採や野生動物の密猟を防ぐパトロールを
14日間、支えることができます。

© Natalie Bowes / WWF-Canada

毎月この金額を一年ご寄付頂くと…

南米のチリで海の大切さを伝え、地域の人たちにも
その保全に参加してもらう普及活動を
1回実施できます。

毎月この金額を一年ご寄付頂くと…

ロシアでケガをしたトラを
野生復帰させるためのリハビリ活動を
6日間、支えることができます。

© Ola Jennersten / WWF-Sweden

毎月この金額を一年ご寄付頂くと…

スマトラの熱帯林で、
違法伐採や野生動物の密猟を防ぐパトロールを
14日間、支えることができます。

会員になる(毎月支援)
寄付をする(1度だけ支援)
あなたの支援が必要です!

© Natalie Bowes / WWF-Canada

1年間その支援を継続すると…

南米のチリで海の大切さを伝え、地域の人たちにも
その保全に参加してもらう普及活動を
1回実施できます。

1年間、その支援を継続すると…

ロシアでケガをしたトラを
野生復帰させるためのリハビリ活動を
6日間、支えることができます。

© Ola Jennersten / WWF-Sweden

1年間、その支援を継続すると…

スマトラの熱帯林で、
違法伐採や野生動物の密猟を防ぐパトロールを
14日間、支えることができます。

毎月この金額を一年ご寄付頂くと…

南米のチリで海の大切さを伝え、地域の人たちにも
その保全に参加してもらう普及活動を
1回実施できます。

毎月この金額を一年ご寄付頂くと…

ロシアでケガをしたトラを
野生復帰させるためのリハビリ活動を
6日間、支えることができます。

© Ola Jennersten / WWF-Sweden

毎月この金額を一年ご寄付頂くと…

スマトラの熱帯林で、
違法伐採や野生動物の密猟を防ぐパトロールを
14日間、支えることができます。

会員になる(毎月支援)
寄付をする(1度だけ支援)
Fisheries committee proposals "too little, too late" for Pacific Bluefin tuna
---
Sapporo, Japan - Members of the Northern Committee (NC)* of the Western and Central Pacific Fishery Commission (WCPFC) who met this week to discuss tuna management measures achieved too little too late to save the Pacific Bluefin tuna, says WWF.
"Despite tuna stocks falling by 90 per cent and the current catch being mainly juveniles yet to breed, the committee couldn't reach agreement on a long-term stock rebuilding plan," said Dr Aiko Yamauchi, Head of WWF-Japan's Fishery and Seafood Project.
WWF urged the WCPFC Northern Committee to commit to a rigorous, long-term recovery plan to address the collapse of Pacific Bluefin tuna stocks. A robust recovery plan setting ambitious, precautionary, science-based performance measures for Bluefin tuna is "an absolute must," said Yamauchi. WWF was also unsuccessful in seeking catch limits on juveniles and species weighing more than 30 kg.
WWF is calling on the Northern Committee to reconsider its position ahead of the annual meeting of the WCPFC expected to take place in December this year. In the absence of such commitments, WWF will consider seeking the immediate suspension of Pacific Bluefin fishing.
One step taken by the Northern Committee was to recommend developing a Bluefin tuna "emergency rule", allowing temporary suspension of the fishery in the event of a collapse of recruitment.
Furthermore, a tangible catch documentation scheme is being developed which requires fishing and trading nations to ensure that the fish entering their markets are harvested in accordance to conservation and management measures (a 50% reduction of juvenile catch).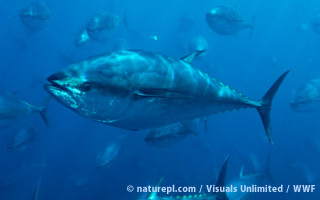 人と自然が調和して
生きられる未来を目指して
WWFは100カ国以上で活動している
環境保全団体です。