あなたの支援が必要です!

© Natalie Bowes / WWF-Canada

1年間その支援を継続すると…

南米のチリで海の大切さを伝え、地域の人たちにも
その保全に参加してもらう普及活動を
1回実施できます。

© Vladimir Filonov / WWF

1年間、その支援を継続すると…

野生のトラが生息する東南アジアの森で行なう
カメラトラップ調査のトレーニングを
実施できます。

© Ola Jennersten / WWF-Sweden

1年間、その支援を継続すると…

スマトラの熱帯林で、
違法伐採や野生動物の密猟を防ぐパトロールを
14日間、支えることができます。

© Natalie Bowes / WWF-Canada

毎月この金額を一年ご寄付頂くと…

南米のチリで海の大切さを伝え、地域の人たちにも
その保全に参加してもらう普及活動を
1回実施できます。

© Vladimir Filonov / WWF

毎月この金額を一年ご寄付頂くと…

野生のトラが生息する東南アジアの森で行なう
カメラトラップ調査のトレーニングを
実施できます。

© Ola Jennersten / WWF-Sweden

毎月この金額を一年ご寄付頂くと…

スマトラの熱帯林で、
違法伐採や野生動物の密猟を防ぐパトロールを
14日間、支えることができます。

会員になる(毎月支援)
寄付をする(1度だけ支援)
TRAFFIC Study: Japan's ivory market must close
---
Tokyo, Japan, 20th December 2017--well-organized transnational criminal networks and a poorly regulated domestic market are among the factors making Japan a lucrative target for procuring ivory products for illegal export. In the continued absence of effective regulation and law enforcement, TRAFFIC is calling for the closure of Japan's domestic ivory market pursuant to CITES[1].
Japan remains one of the world's largest domestic ivory markets, and is home to an active, though shrinking, ivory manufacturing industry. The country also boasts significant stockpiles of raw tusks in private ownership--a cultural legacy from its past trade.
Ivory Towers: An Assessment of Japan's Ivory trade and domestic market (PDF) , a TRAFFIC study released today, presents the findings from surveys and interviews conducted in both physical and online markets in Japan between May and September 2017.
The report has revealed the growing trend for ivory in Japan's domestic antiques and tourist markets to be routinely purchased by visitors and agents for illegal ivory exports.
"Our findings show without doubt that Japan's largely unregulated domestic ivory market is contributing to illegal trade--a condition considered by Parties to CITES to warrant much stricter regulation and even the closure of the market," said Tomomi Kitade, an author of the report.
"It is imperative that Japan's role within international illegal ivory trade be recognized, and urgent steps taken to address the on-going illegal export and the regulatory gaps that are facilitating such criminal activity," added Kitade.
Japan's domestic legislation has consistently come under scrutiny given concerns regarding both its enforcement and legislative efficacy in ensuring legal ivory trade.
Current laws regulate ivory businesses, but not trade between individuals, except in cases where tusks are concerned.
Proposed reforms to the domestic Law for the Conservation of Endangered Wild Fauna and Flora (LCES) are scheduled to come into effect in June 2018. Although it was hoped that this reform would address critical loopholes, TRAFFIC's analysis has already uncovered serious flaws which threaten to continue undermining efforts to combat illegal activity.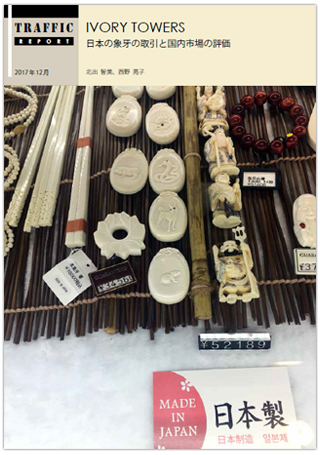 TRAFFIC has previously highlighted the contravention of domestic laws by Japanese ivory traders[LINK: http://www.traffic.org/home/2017/6/23/ivory-seizure-exposes-japans-lax-domestic-ivory-trade-contro.html], and called for a nationwide clampdown on unscrupulous businesses.
However, illegal activity continues to be widespread as covert interviews with ivory vendors found that 73% were actively promoting purchase that lead to illegal ivory exports, even giving advice to visitors on how best to conceal ivory products without permits in luggage.
The latest study's findings are supported by a review of ETIS[2] seizure records, which reveal a significant increase in illegal ivory exports from Japan, reaching a total of 2.42 tonnes of ivory seized between 2011 and 2016. In contrast, seizures concerning illegal imports over the same period totalled only 43 kg.
Overall, activities captured in the ETIS data indicated a one-way trend in which ivory commodities were illegally exported from Japan to China, representing 95% of all illegal export by weight and further strengthening the conclusion that Japan has become a source for illegal ivory bound for markets in East Asia.
Online platforms were also found to be used for purchasing worked ivory products, with a recent seizure made by China's Customs authority in 2016 involving a staggering 1,639 pieces of worked ivory and carved tusks.
"Japan's contribution to illegal ivory trade dynamics can no longer be ignored," said Keiko Wakao, Head of TRAFFIC's Japan Office. "This report should be seen as the final straw for Japan's domestic ivory market. TRAFFIC will be working closely with the relevant Japanese authorities and ivory trade stakeholders to monitor progress in line with CITES Res. Conf. 10.10."
[1] CITES is the Convention on the International Trade in Endangered Species of Wild Fauna and Flora.
[2] ETIS is the Elephant Trade and Information System. ETIS is a database of seizure records concerning illegal trade in ivory and is managed by TRAFFIC as mandated by CITES.
Ivory Towers: An Assessment of Japan's Ivory trade and domestic market (Disclosure 14:00 JST: 06:00 CET).
About TRAFFIC
TRAFFIC, the wildlife trade monitoring network, is the leading non-governmental organization working globally on trade in wild animals and plants in the context of both biodiversity conservation and sustainable development. TRAFFIC works closely with its founding organizations, IUCN and WWF. For more information, visit www.traffic.org
For more information, to RSVP or to set up interviews, please contact via email : TEASjapan@traffic.org / press@wwf.or.jp
人と自然が調和して
生きられる未来を目指して
WWFは100カ国以上で活動している
環境保全団体です。