あなたの支援が必要です!

© Natalie Bowes / WWF-Canada

1年間その支援を継続すると…

南米のチリで海の大切さを伝え、地域の人たちにも
その保全に参加してもらう普及活動を
1回実施できます。

© Vladimir Filonov / WWF

1年間、その支援を継続すると…

野生のトラが生息する東南アジアの森で行なう
カメラトラップ調査のトレーニングを
実施できます。

© Ola Jennersten / WWF-Sweden

1年間、その支援を継続すると…

スマトラの熱帯林で、
違法伐採や野生動物の密猟を防ぐパトロールを
14日間、支えることができます。

© Natalie Bowes / WWF-Canada

毎月この金額を一年ご寄付頂くと…

南米のチリで海の大切さを伝え、地域の人たちにも
その保全に参加してもらう普及活動を
1回実施できます。

© Vladimir Filonov / WWF

毎月この金額を一年ご寄付頂くと…

野生のトラが生息する東南アジアの森で行なう
カメラトラップ調査のトレーニングを
実施できます。

© Ola Jennersten / WWF-Sweden

毎月この金額を一年ご寄付頂くと…

スマトラの熱帯林で、
違法伐採や野生動物の密猟を防ぐパトロールを
14日間、支えることができます。

会員になる(毎月支援)
寄付をする(1度だけ支援)
Persian leopard cubs born in Russian reintroduction centre
---
Triplets have been born to a captive Persian leopard in a Russian breeding centre. The cubs are in good health and may one day be reintroduced to the wild as part of a reintroduction programme supported by WWF, Russian authorities and other partners.
Persian leopards are endangered globally and have been extinct in the Russia's Western Caucasus region for about 100 years. A breeding and reintroduction centre was established in Sochi National Park to train cubs to live independently in hopes that they can one day repopulate the area.
Since 2013, eleven leopard cubs have been born in the centre, with this being the second set of triplets. This summer, the first graduates of the programme are scheduled to be released. They have proven their ability to hunt their own prey and have a sufficient fear of humans. As the leopards have been fitted with GPS collars, conservationists will be able to track their movements from a distance.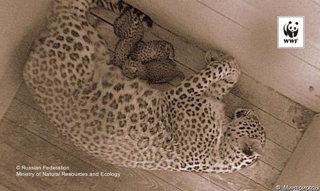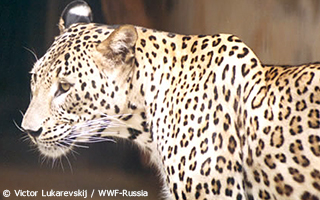 "As soon as the little ones leave the den, they will enter a period of serious training for independent life in the wild," Natalia Dronova, WWF-Russia's species coordinator. "We hope that they will successfully pass all exams and will get into the second group of young leopards that will be released in 2018."
The gender of the three new cubs will be determined in a few months when they receive their first vaccinations. Until that time, the triplets will be nursed in their den by their mother, and will be monitored with surveillance cameras.
The protected areas of the Western Caucasus, where the leopards will be reintroduced, make up one of 114 natural World Heritage sites worldwide that are under threat from harmful industrial activities. Proposals to expand ski resorts that were originally built for the 2014 Sochi Olympics could fragment the leopards' habitat.
Take action now to save the precious World Heritage sites upon which people and wildlife depend.
人と自然が調和して
生きられる未来を目指して
WWFは100カ国以上で活動している
環境保全団体です。