あなたの支援が必要です!

© Natalie Bowes / WWF-Canada

1年間その支援を継続すると…

南米のチリで海の大切さを伝え、地域の人たちにも
その保全に参加してもらう普及活動を
1回実施できます。

1年間、その支援を継続すると…

ロシアでケガをしたトラを
野生復帰させるためのリハビリ活動を
6日間、支えることができます。

© Ola Jennersten / WWF-Sweden

1年間、その支援を継続すると…

スマトラの熱帯林で、
違法伐採や野生動物の密猟を防ぐパトロールを
14日間、支えることができます。

© Natalie Bowes / WWF-Canada

毎月この金額を一年ご寄付頂くと…

南米のチリで海の大切さを伝え、地域の人たちにも
その保全に参加してもらう普及活動を
1回実施できます。

毎月この金額を一年ご寄付頂くと…

ロシアでケガをしたトラを
野生復帰させるためのリハビリ活動を
6日間、支えることができます。

© Ola Jennersten / WWF-Sweden

毎月この金額を一年ご寄付頂くと…

スマトラの熱帯林で、
違法伐採や野生動物の密猟を防ぐパトロールを
14日間、支えることができます。

会員になる(毎月支援)
寄付をする(1度だけ支援)
あなたの支援が必要です!

© Natalie Bowes / WWF-Canada

1年間その支援を継続すると…

南米のチリで海の大切さを伝え、地域の人たちにも
その保全に参加してもらう普及活動を
1回実施できます。

1年間、その支援を継続すると…

ロシアでケガをしたトラを
野生復帰させるためのリハビリ活動を
6日間、支えることができます。

© Ola Jennersten / WWF-Sweden

1年間、その支援を継続すると…

スマトラの熱帯林で、
違法伐採や野生動物の密猟を防ぐパトロールを
14日間、支えることができます。

毎月この金額を一年ご寄付頂くと…

南米のチリで海の大切さを伝え、地域の人たちにも
その保全に参加してもらう普及活動を
1回実施できます。

毎月この金額を一年ご寄付頂くと…

ロシアでケガをしたトラを
野生復帰させるためのリハビリ活動を
6日間、支えることができます。

© Ola Jennersten / WWF-Sweden

毎月この金額を一年ご寄付頂くと…

スマトラの熱帯林で、
違法伐採や野生動物の密猟を防ぐパトロールを
14日間、支えることができます。

会員になる(毎月支援)
寄付をする(1度だけ支援)
Staff Blog : I want to make a handbook that connects the forests with people
---
Hello to the people of Japan! This is Nan, from WWF Thailand.
My work is to maintain the habitat of wild animals.
I work at Kui Buri National Park, one of the most known protected areas in Thailand.
At this park, we offer eco-tourism for the tourists that visit here with the local community guides iwho lives near the national .

I am sure that all of you in Japan feel very excited when guides show you animals or plants that you can only see when you go to forests or when you go hiking.
Such moments of discovery are like treasures and I think it provides an opportunity for us to want to treasure the life that we see.
In order for guides who are unfamiliar about where they can see certain plants, animals or birds to guide the tourists through Kui Buri National Park, I am currently working on a handbook.

I, myself, have many times when I need to hover over encyclopedias while researching the area.
But every time I learn something new, it is a moment that makes my heart dance.
The living beings are not just there.
They have a name and they have a role that they play in nature. And they have a story.
There is still so much that is still unknown.

It is my wish that the guides and the people who visit the park could share the moments when my heart dances. It is the accumulation of such moments that fill us up with a strong desire to protect the forests.
That is the reason why I am including a lot of information in the handbook.

Humans protect the forests while enjoying the resources of the forest.
It is my hope that the eco-tourism efforts led by the local people of the area will be a sustainable industry.
I would like all of you in Japan to keep an eye out on our efforts at Kui Buri National Park.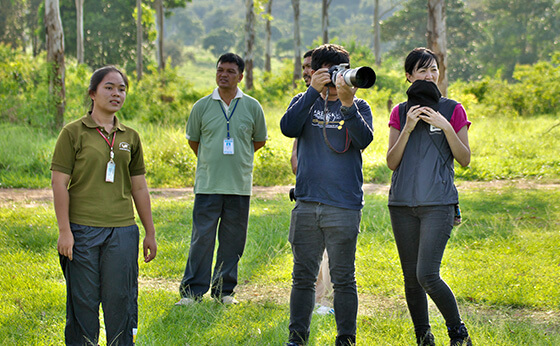 Kui Buri National Park lies about four hours by car from the capital city, Bangkok. It is located in the Tenasserim Hills Range which runs along the border of Myanmar and Thailand. The guides (wearing tags hanging from their necks) conduct wildlife observation safaris as well as explain about the various living beings in the park.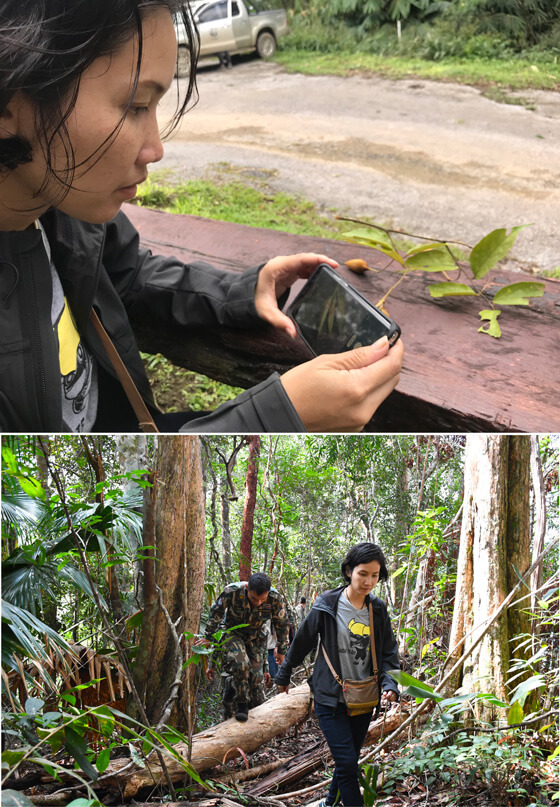 I take photos of any plants that I do not know and look them up. I want to take photos of the leaves and flowers and fruits, but if I cannot take photos of them, I will return to the same spot at a different season, and challenge again.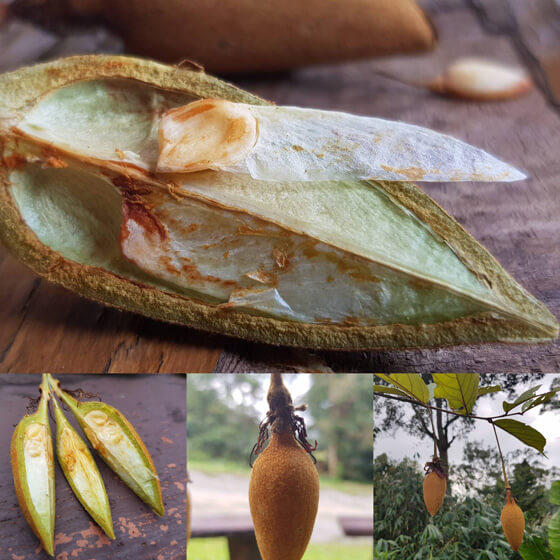 A specie from the Chinese parasol-tree family, which I am currently trying to identify. It is the same family of plants as cola and cacao. I heard that there is this species of Chinese parasol-trees family that continue to grow in Hiroshima even after the atomic bomb. I would like to go see it someday.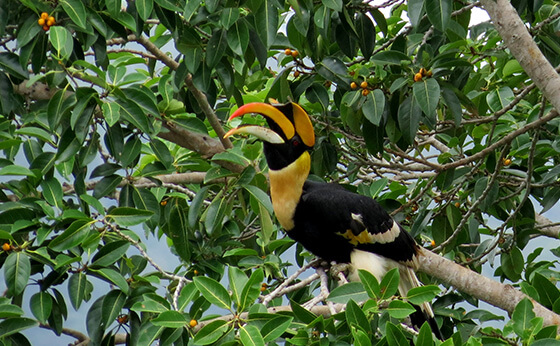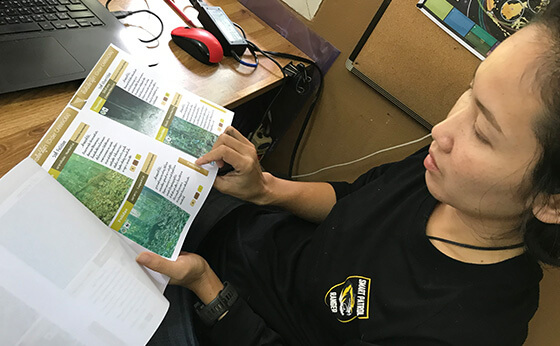 This is the Great Hornbill. It eats fruits with its magnificent beak. Some Great Hornbills measure about 150cm when they spread their wings.
Creating guides for birds, mammals, and plants simultaneously. When finished, I would be delighted if the Japanese people can look at the guide.
人と自然が調和して
生きられる未来を目指して
WWFは100カ国以上で活動している
環境保全団体です。