あなたの支援が必要です!

© Natalie Bowes / WWF-Canada

1年間その支援を継続すると…

南米のチリで海の大切さを伝え、地域の人たちにも
その保全に参加してもらう普及活動を
1回実施できます。

© Vladimir Filonov / WWF

1年間、その支援を継続すると…

野生のトラが生息する東南アジアの森で行なう
カメラトラップ調査のトレーニングを
実施できます。

© Ola Jennersten / WWF-Sweden

1年間、その支援を継続すると…

スマトラの熱帯林で、
違法伐採や野生動物の密猟を防ぐパトロールを
14日間、支えることができます。

© Natalie Bowes / WWF-Canada

毎月この金額を一年ご寄付頂くと…

南米のチリで海の大切さを伝え、地域の人たちにも
その保全に参加してもらう普及活動を
1回実施できます。

© Vladimir Filonov / WWF

毎月この金額を一年ご寄付頂くと…

野生のトラが生息する東南アジアの森で行なう
カメラトラップ調査のトレーニングを
実施できます。

© Ola Jennersten / WWF-Sweden

毎月この金額を一年ご寄付頂くと…

スマトラの熱帯林で、
違法伐採や野生動物の密猟を防ぐパトロールを
14日間、支えることができます。

会員になる(毎月支援)
寄付をする(1度だけ支援)
Rare turtle sets Japanese precedent
---
Japan is asking the world's governments to help protect the Ryukyu black-breasted leaf turtle, a rare turtle found on only three small islands in the Okinawa group.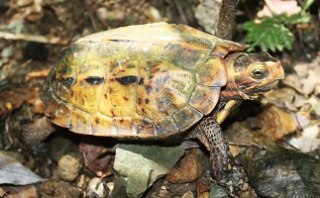 The turtle was proposed by the Japanese Government for listing in Appendix II of CITES, the Convention on International Trade in Endangered Species of Wild Fauna and Flora, following the discovery of it on the international trade scene in mainland China, Hong Kong and online. It is the first time Japan has submitted a proposal to CITES, which is currently meeting in Bangkok, Thailand.

At home, under Japanese law, the Ryukyu black-breasted leaf turtle is designated as a "natural monument" and cannot be captured, transferred or traded without permission from the Commissioner for Cultural Affairs.

But the appearance of the species in the pet trade outside Japan strongly suggests illegal activity is taking place. Governments at CITES chose to accept the Japanese listing proposal, which will see this unique turtle gain better protection against illegal international trade.
The proposal arose after TRAFFIC market surveys raised the alarm following the discovery of small numbers of protected Japanese reptiles in the Asian pet trade. They included 31 Ryukyu black-breasted leaf turtles in two shops in Hong Kong, while two further shops plus one in neighbouring Guangzhou, southern China, told TRAFFIC that they received orders for the species.

TRAFFIC has released a new report at CITES, Trade in Japanese Endemic Reptiles in China and Recommendations for Species Conservation, recommending that the Japanese government propose the listing of the turtle.

"The proposal to list the Ryukyu black-breasted leaf turtle is a small but significant step for Japan," said Kahoru Kanari, Senior Programme Officer with TRAFFIC and an author of the report. "We hope it signals Japan's intention to place more importance on the conservation of wild species found in international trade."

In total 11 proposals were submitted to CITES for listings of freshwater turtles from around the world.
人と自然が調和して
生きられる未来を目指して
WWFは100カ国以上で活動している
環境保全団体です。