あなたの支援が必要です!

© Natalie Bowes / WWF-Canada

1年間その支援を継続すると…

南米のチリで海の大切さを伝え、地域の人たちにも
その保全に参加してもらう普及活動を
1回実施できます。

1年間、その支援を継続すると…

ロシアでケガをしたトラを
野生復帰させるためのリハビリ活動を
6日間、支えることができます。

© Ola Jennersten / WWF-Sweden

1年間、その支援を継続すると…

スマトラの熱帯林で、
違法伐採や野生動物の密猟を防ぐパトロールを
14日間、支えることができます。

© Natalie Bowes / WWF-Canada

毎月この金額を一年ご寄付頂くと…

南米のチリで海の大切さを伝え、地域の人たちにも
その保全に参加してもらう普及活動を
1回実施できます。

毎月この金額を一年ご寄付頂くと…

ロシアでケガをしたトラを
野生復帰させるためのリハビリ活動を
6日間、支えることができます。

© Ola Jennersten / WWF-Sweden

毎月この金額を一年ご寄付頂くと…

スマトラの熱帯林で、
違法伐採や野生動物の密猟を防ぐパトロールを
14日間、支えることができます。

会員になる(毎月支援)
寄付をする(1度だけ支援)
あなたの支援が必要です!

© Natalie Bowes / WWF-Canada

1年間その支援を継続すると…

南米のチリで海の大切さを伝え、地域の人たちにも
その保全に参加してもらう普及活動を
1回実施できます。

1年間、その支援を継続すると…

ロシアでケガをしたトラを
野生復帰させるためのリハビリ活動を
6日間、支えることができます。

© Ola Jennersten / WWF-Sweden

1年間、その支援を継続すると…

スマトラの熱帯林で、
違法伐採や野生動物の密猟を防ぐパトロールを
14日間、支えることができます。

毎月この金額を一年ご寄付頂くと…

南米のチリで海の大切さを伝え、地域の人たちにも
その保全に参加してもらう普及活動を
1回実施できます。

毎月この金額を一年ご寄付頂くと…

ロシアでケガをしたトラを
野生復帰させるためのリハビリ活動を
6日間、支えることができます。

© Ola Jennersten / WWF-Sweden

毎月この金額を一年ご寄付頂くと…

スマトラの熱帯林で、
違法伐採や野生動物の密猟を防ぐパトロールを
14日間、支えることができます。

会員になる(毎月支援)
寄付をする(1度だけ支援)
Need for high level action against wildlife crime reaffirmed on World Rhino Day
---
Gland, Switzerland:
Governments meeting in New York next week for the Opening of the United Nations General Assembly should seize the opportunity to accelerate efforts to combat illicit wildlife trafficking, WWF says.
"Sadly, as we approach World Rhino Day on Sunday we are headed toward another year of record poaching. More than 600 rhinos have been killed in South Africa alone," said Jim Leape, Director General of WWF International. "The criminal syndicates targeting rhinos, elephants, tigers and other species are also undermining peace, security and economic development in many countries."
Because of its transnational nature spanning source, transit and demand countries, ending wildlife trafficking requires both international collaboration between countries, and internal coordination between government agencies. WWF urges heads of state to establish national task forces consisting of police, customs, justice, defence, environment and other specialized agencies.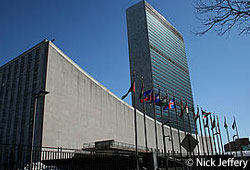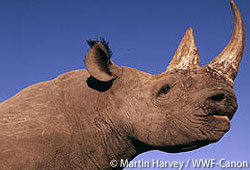 "Countries must take action without delay and show they are serious in the fight against wildlife crime. Only a combination of strong criminal penalties, zero tolerance of corruption and the disruption of smuggling routes will bring this plague to an end," Leape said.
It is also essential to combat the growing demand for illegal wildlife products, which is driving poaching. WWF is calling for government-led campaigns to target consumer behaviour. A recent study by wildlife trade monitoring network TRAFFIC examining attitudes toward rhino horn use in Viet Nam found that most people know of its illegality, but nevertheless associate it with wealth and power.
WWF next week will join the governments of Gabon and Germany at the UN for a high level discussion on the threats poaching and trafficking pose to biodiversity and international stability. Earlier this year a report by the UN Secretary General stated that wildlife crime constitutes a grave menace to peace and security in some areas. The event, "Poaching and illicit wildlife trafficking - a multidimensional crime and a growing challenge to the international community," will take place at UN Headquarters on 26 September 2013.
人と自然が調和して
生きられる未来を目指して
WWFは100カ国以上で活動している
環境保全団体です。