あなたの支援が必要です!

© Natalie Bowes / WWF-Canada

1年間その支援を継続すると…

南米のチリで海の大切さを伝え、地域の人たちにも
その保全に参加してもらう普及活動を
1回実施できます。

1年間、その支援を継続すると…

ロシアでケガをしたトラを
野生復帰させるためのリハビリ活動を
6日間、支えることができます。

© Ola Jennersten / WWF-Sweden

1年間、その支援を継続すると…

スマトラの熱帯林で、
違法伐採や野生動物の密猟を防ぐパトロールを
14日間、支えることができます。

© Natalie Bowes / WWF-Canada

毎月この金額を一年ご寄付頂くと…

南米のチリで海の大切さを伝え、地域の人たちにも
その保全に参加してもらう普及活動を
1回実施できます。

毎月この金額を一年ご寄付頂くと…

ロシアでケガをしたトラを
野生復帰させるためのリハビリ活動を
6日間、支えることができます。

© Ola Jennersten / WWF-Sweden

毎月この金額を一年ご寄付頂くと…

スマトラの熱帯林で、
違法伐採や野生動物の密猟を防ぐパトロールを
14日間、支えることができます。

会員になる(毎月支援)
寄付をする(1度だけ支援)
あなたの支援が必要です!

© Natalie Bowes / WWF-Canada

1年間その支援を継続すると…

南米のチリで海の大切さを伝え、地域の人たちにも
その保全に参加してもらう普及活動を
1回実施できます。

1年間、その支援を継続すると…

ロシアでケガをしたトラを
野生復帰させるためのリハビリ活動を
6日間、支えることができます。

© Ola Jennersten / WWF-Sweden

1年間、その支援を継続すると…

スマトラの熱帯林で、
違法伐採や野生動物の密猟を防ぐパトロールを
14日間、支えることができます。

毎月この金額を一年ご寄付頂くと…

南米のチリで海の大切さを伝え、地域の人たちにも
その保全に参加してもらう普及活動を
1回実施できます。

毎月この金額を一年ご寄付頂くと…

ロシアでケガをしたトラを
野生復帰させるためのリハビリ活動を
6日間、支えることができます。

© Ola Jennersten / WWF-Sweden

毎月この金額を一年ご寄付頂くと…

スマトラの熱帯林で、
違法伐採や野生動物の密猟を防ぐパトロールを
14日間、支えることができます。

会員になる(毎月支援)
寄付をする(1度だけ支援)
WWF-Japan Brings an Ancient, Sustainable - and Stylish - Twist to Fashion
---
WWF-Japan unveils "deep black" dyed fashion masterpieces; restoring a traditional art form to bring life back to well-worn clothes and to raise awareness around conservation issues.
WWF-Japan captured imagination at a design event this month in Tokyo, launching a campaign that raises awareness around conservation issues by re-invigorating a historical Japanese method of dyeing fabric --- giving the ancient technique a timely, stylish twist.
The campaign, entitled "PANDA BLACK -Rewear Project-", brought a smile to everyone who loves their well-worn clothes by introducing a traditional Japanese dyeing technique that can transform faded, stained or worn fabric into jet-black high-fashion. WWF-Japan showcased this method --- originally used to create iconic black kimonos --- with clothes once worn by Japanese celebrities such as Iruka, a female folk singer, and Gugi Akiyama, an art director.
Explained Haruka Onishi, Communications Officer at WWF-Japan, "The concept was inspired by the WWF panda logo, which is recognized worldwide as a symbol of conservation. That is why we call the project ` PANDA BLACK'. Continued Ms. Onishi, "New clothes consume a lot of natural resources and what's worse is that a lot of the clothes thrown out in Japan are still wearable. 'PANDA BLACK' raises awareness around conservation in Japan, a country which has one of the highest rates of discarded clothing in the world, by giving a new lease on life to old, damaged, or stained fabric".
The magic behind the transformation is a kimono-dyeing technique called Kuro Montsuki Zome, which  Kyoto-Montsuki, a dyeing company based in Kyoto, which has been using for over a century.  For people interested on giving their clothes a new lease on life, the Kyoto-Montsuki Company Limited accepts orders from inside and outside Japan to give old clothes a new, stylish shade of black. The company will donate a proportion of the proceeds to WWF-Japan.
Concluded Ms. Onishi, "It is heartening to see an ancient skill, core to Japanese culture, adapting to modern times." She then added with a laugh, "We think this will introduce the colour black to a lot of people's colourful --- but tired --- wardrobes".
For more information: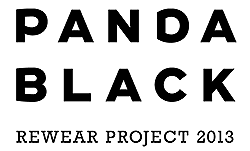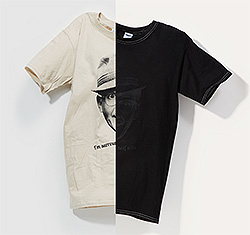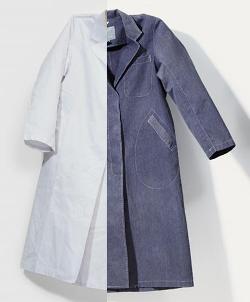 人と自然が調和して
生きられる未来を目指して
WWFは100カ国以上で活動している
環境保全団体です。