あなたの支援が必要です!

© Natalie Bowes / WWF-Canada

1年間その支援を継続すると…

南米のチリで海の大切さを伝え、地域の人たちにも
その保全に参加してもらう普及活動を
1回実施できます。

1年間、その支援を継続すると…

ロシアでケガをしたトラを
野生復帰させるためのリハビリ活動を
6日間、支えることができます。

© Ola Jennersten / WWF-Sweden

1年間、その支援を継続すると…

スマトラの熱帯林で、
違法伐採や野生動物の密猟を防ぐパトロールを
14日間、支えることができます。

© Natalie Bowes / WWF-Canada

毎月この金額を一年ご寄付頂くと…

南米のチリで海の大切さを伝え、地域の人たちにも
その保全に参加してもらう普及活動を
1回実施できます。

毎月この金額を一年ご寄付頂くと…

ロシアでケガをしたトラを
野生復帰させるためのリハビリ活動を
6日間、支えることができます。

© Ola Jennersten / WWF-Sweden

毎月この金額を一年ご寄付頂くと…

スマトラの熱帯林で、
違法伐採や野生動物の密猟を防ぐパトロールを
14日間、支えることができます。

会員になる(毎月支援)
寄付をする(1度だけ支援)
あなたの支援が必要です!

© Natalie Bowes / WWF-Canada

1年間その支援を継続すると…

南米のチリで海の大切さを伝え、地域の人たちにも
その保全に参加してもらう普及活動を
1回実施できます。

1年間、その支援を継続すると…

ロシアでケガをしたトラを
野生復帰させるためのリハビリ活動を
6日間、支えることができます。

© Ola Jennersten / WWF-Sweden

1年間、その支援を継続すると…

スマトラの熱帯林で、
違法伐採や野生動物の密猟を防ぐパトロールを
14日間、支えることができます。

毎月この金額を一年ご寄付頂くと…

南米のチリで海の大切さを伝え、地域の人たちにも
その保全に参加してもらう普及活動を
1回実施できます。

毎月この金額を一年ご寄付頂くと…

ロシアでケガをしたトラを
野生復帰させるためのリハビリ活動を
6日間、支えることができます。

© Ola Jennersten / WWF-Sweden

毎月この金額を一年ご寄付頂くと…

スマトラの熱帯林で、
違法伐採や野生動物の密猟を防ぐパトロールを
14日間、支えることができます。

会員になる(毎月支援)
寄付をする(1度だけ支援)
WWF's flying squad elephant gives birth to a female calf
---
Pekanbaru, Indonesia:
A female elephant calf has been born to the elephant Flying Squad in Indonesia's Tesso Nilo National Park.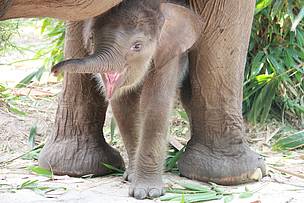 <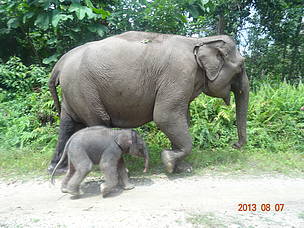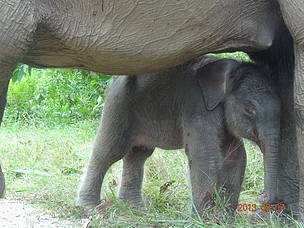 The calf's mother is part of an elite team of critically endangered Sumatran elephants that help protect communities from conflict with wild elephants. Four births have been recorded since the squad was established by WWF and the Indonesia Ministry of Forests in 2004.
This Flying Squad consists of four trained adult elephants and eight elephant handlers called mahouts, which are deployed to drive wild elephants back into the forest when they stray into nearby villages or farms. As elephant habitat shrinks, the animals become more likely to raid crops for food.
Human-elephant conflict is a threat to the safety of both the people living around the national park and the wild elephants that call it home. So far this year, three elephants have been found dead in Tesso Nilo, and 12 were killed last year. Most were believed to be poisoned.
"The Flying Squad is a highly successful model for reducing conflict between people and elephants in a way that is safe for everyone," said Christy Williams, WWF's Asian rhino and elephant programme manager.
"Human-elephant conflict is a problem in many elephant habitats across Asia and in Africa. We are hoping that with greater resources we can establish even more squads in order to prevent elephant and human deaths that don't need to happen. People and elephants can live in harmony," Williams added.
Recently, a Flying Squad in Assam, India, safely drove wild elephants from a tea plantation. Images of the encounter show a large elephant herd first deep in the crop field, then heading back into the forest after being confronted by the squad.
The Tesso Nilo calf's mother is 35 years old and was pregnant for 20-22 months before giving birth to the 90 kilo baby on August 9, just days before World Elephant Day.
人と自然が調和して
生きられる未来を目指して
WWFは100カ国以上で活動している
環境保全団体です。