あなたの支援が必要です!

© Natalie Bowes / WWF-Canada

1年間その支援を継続すると…

南米のチリで海の大切さを伝え、地域の人たちにも
その保全に参加してもらう普及活動を
1回実施できます。

1年間、その支援を継続すると…

ロシアでケガをしたトラを
野生復帰させるためのリハビリ活動を
6日間、支えることができます。

© Ola Jennersten / WWF-Sweden

1年間、その支援を継続すると…

スマトラの熱帯林で、
違法伐採や野生動物の密猟を防ぐパトロールを
14日間、支えることができます。

© Natalie Bowes / WWF-Canada

毎月この金額を一年ご寄付頂くと…

南米のチリで海の大切さを伝え、地域の人たちにも
その保全に参加してもらう普及活動を
1回実施できます。

毎月この金額を一年ご寄付頂くと…

ロシアでケガをしたトラを
野生復帰させるためのリハビリ活動を
6日間、支えることができます。

© Ola Jennersten / WWF-Sweden

毎月この金額を一年ご寄付頂くと…

スマトラの熱帯林で、
違法伐採や野生動物の密猟を防ぐパトロールを
14日間、支えることができます。

会員になる(毎月支援)
寄付をする(1度だけ支援)
あなたの支援が必要です!

© Natalie Bowes / WWF-Canada

1年間その支援を継続すると…

南米のチリで海の大切さを伝え、地域の人たちにも
その保全に参加してもらう普及活動を
1回実施できます。

1年間、その支援を継続すると…

ロシアでケガをしたトラを
野生復帰させるためのリハビリ活動を
6日間、支えることができます。

© Ola Jennersten / WWF-Sweden

1年間、その支援を継続すると…

スマトラの熱帯林で、
違法伐採や野生動物の密猟を防ぐパトロールを
14日間、支えることができます。

毎月この金額を一年ご寄付頂くと…

南米のチリで海の大切さを伝え、地域の人たちにも
その保全に参加してもらう普及活動を
1回実施できます。

毎月この金額を一年ご寄付頂くと…

ロシアでケガをしたトラを
野生復帰させるためのリハビリ活動を
6日間、支えることができます。

© Ola Jennersten / WWF-Sweden

毎月この金額を一年ご寄付頂くと…

スマトラの熱帯林で、
違法伐採や野生動物の密猟を防ぐパトロールを
14日間、支えることができます。

会員になる(毎月支援)
寄付をする(1度だけ支援)
UNESCO dumps on Great Barrier Reef dredging decision
---
Brisbane, Australia: In a report released early this morning UNESCO has expressed concern and regret about the Federal Government's controversial decision to allow dredge spoil dumping on the Great Barrier Reef and the serious decline of the Reef's health.
WWF-Australia Reef campaigner Richard Leck said it was the first time the international body had commented on the decision to allow the dumping of three million cubic metres of dredge spoil in reef waters.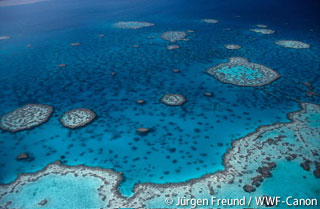 "UNESCO'S concern is shared by thousands of Australians and hundreds of leading scientists and we call on the Federal Government to ban dumping of dredge spoil in the Great Barrier Reef World Heritage Area prior to the World Heritage Committee meeting in June," Mr Leck said.
The report also leaves open the possibility that the World Heritage Committee could declare the Great Barrier Reef 'World Heritage in Danger'.
UNESCO expressed concern "regarding serious decline in the condition of the Great Barrier Reef, including in coral recruitment and reef building across extensive parts of the property" and said that "a business-as-usual approach to managing the property is not an option".
UNESCO "noted with concern" and "regrets" the proposed Abbot Point dumping stating "this was approved, despite an indication that less impacting disposal alternatives may exist".
And UNESCO criticised the environmental offset conditions attached to Abbot Point saying they appeared "inappropriate".
UNESCO also criticized the decision to allow another gas hub in Gladstone Harbour and raised concerns about a leaking bund wall.
On a positive note UNESCO noted the Queensland Government's intention to exclude port development in the Fitzroy Delta and other high conservation value greenfield areas.
"This will be a welcome breakthrough when it is enshrined in policy. At this stage the Queensland Government has not confirmed protection of these areas. We call on the Government to do so," Mr Leck said.
UNESCO also called on the Federal Government to provide an updated report detailing improved management of the Reef before the World Heritage Committee decides whether or not to declare it 'World Heritage in Danger" at its 2015 meeting.
Great Barrier Reef Campaign Director with AMCS Felicity Wishart said: "This report overall keeps the pressure on both the Federal and Queensland Governments to lift their game on reef protection" he said. "It's clear from the report that UNESCO remains deeply concerned about the Abbot Point dumping and the overall health of the Reef.
"The Queensland and Australian Governments are simply not moving quickly enough to ensure the protection of the Reef. They need to abandon the plans for major port expansions, the million tonnes of dredging and dumping along the Reef and ensure its long term health," she said.
人と自然が調和して
生きられる未来を目指して
WWFは100カ国以上で活動している
環境保全団体です。