あなたの支援が必要です!

© Natalie Bowes / WWF-Canada

1年間その支援を継続すると…

南米のチリで海の大切さを伝え、地域の人たちにも
その保全に参加してもらう普及活動を
1回実施できます。

© Vladimir Filonov / WWF

1年間、その支援を継続すると…

野生のトラが生息する東南アジアの森で行なう
カメラトラップ調査のトレーニングを
実施できます。

© Ola Jennersten / WWF-Sweden

1年間、その支援を継続すると…

スマトラの熱帯林で、
違法伐採や野生動物の密猟を防ぐパトロールを
14日間、支えることができます。

© Natalie Bowes / WWF-Canada

毎月この金額を一年ご寄付頂くと…

南米のチリで海の大切さを伝え、地域の人たちにも
その保全に参加してもらう普及活動を
1回実施できます。

© Vladimir Filonov / WWF

毎月この金額を一年ご寄付頂くと…

野生のトラが生息する東南アジアの森で行なう
カメラトラップ調査のトレーニングを
実施できます。

© Ola Jennersten / WWF-Sweden

毎月この金額を一年ご寄付頂くと…

スマトラの熱帯林で、
違法伐採や野生動物の密猟を防ぐパトロールを
14日間、支えることができます。

会員になる(毎月支援)
寄付をする(1度だけ支援)
First World Wildlife Day an opportunity for hope and action
---
World Wildlife Day is an opportunity for the international community to celebrate the globe's wild plant and animal life while redoubling efforts to protect them. WWF welcomes recent achievements to safeguard wildlife, laments the losses, and looks toward a future in which people can truly live in harmony with nature.
The United Nations General Assembly set aside March 3 to raise awareness of the intrinsic value of wildlife and its contributions to sustainable development and human well-being. The day, which marks the signing in 1973 of the Convention on International Trade in Endangered Species of Wild Fauna and Flora (CITES), is also being used to underscore the need to fight wildlife crime.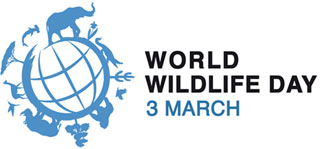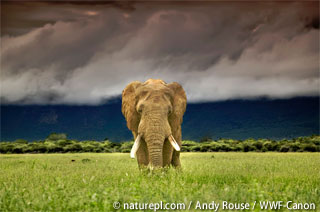 "The Earth's wild creatures - from the tiger to the monarch butterfly - bring wonder and beauty into our lives. They are also a vital part of the forests, meadows, rivers and oceans on whose services our economy and society depend. Wildlife needs our appreciation and protection," said Jim Leape, director general of WWF International.
The last year has recorded numerous achievements in the fight against wildlife crime. Several countries disposed of ivory stocks, the United Nations imposed targeted sanctions, and the recent London Conference resulted in strengthened commitments aimed at poaching and illegal trade.
While progress has been achieved, illegal wildlife trade continues to pose a grave threat to our natural world. In South Africa alone, over 1,000 rhinos were poached in 2013. More than a statistic, it's a somber reminder that wildlife crime is real, that it interrupts economic opportunities, and that it poses a threat to security and stability.
Despite these setbacks, WWF is pleased to mark the first World Wildlife Day by recognizing Nepal for achieving zero poaching of rhinos, elephants and tigers for the year period ending in February 2014. Successes such as these translate into a more secure future for wildlife, with Nepal's tiger population increasing by over 60% since 2009.
"We congratulate Nepal on reducing poaching to zero within its borders," said Yolanda Kakabadse, president of WWF International. "This achievement serves as a model for WWF's goal of drastically reducing wildlife crime worldwide - with a combination of brave policymaking, determined implementation and robust enforcement."
By working with civil society, government and business, WWF helps safeguard wildlife on World Wildlife Day and everyday.
人と自然が調和して
生きられる未来を目指して
WWFは100カ国以上で活動している
環境保全団体です。