あなたの支援が必要です!

© Natalie Bowes / WWF-Canada

1年間その支援を継続すると…

南米のチリで海の大切さを伝え、地域の人たちにも
その保全に参加してもらう普及活動を
1回実施できます。

1年間、その支援を継続すると…

ロシアでケガをしたトラを
野生復帰させるためのリハビリ活動を
6日間、支えることができます。

© Ola Jennersten / WWF-Sweden

1年間、その支援を継続すると…

スマトラの熱帯林で、
違法伐採や野生動物の密猟を防ぐパトロールを
14日間、支えることができます。

© Natalie Bowes / WWF-Canada

毎月この金額を一年ご寄付頂くと…

南米のチリで海の大切さを伝え、地域の人たちにも
その保全に参加してもらう普及活動を
1回実施できます。

毎月この金額を一年ご寄付頂くと…

ロシアでケガをしたトラを
野生復帰させるためのリハビリ活動を
6日間、支えることができます。

© Ola Jennersten / WWF-Sweden

毎月この金額を一年ご寄付頂くと…

スマトラの熱帯林で、
違法伐採や野生動物の密猟を防ぐパトロールを
14日間、支えることができます。

会員になる(毎月支援)
寄付をする(1度だけ支援)
あなたの支援が必要です!

© Natalie Bowes / WWF-Canada

1年間その支援を継続すると…

南米のチリで海の大切さを伝え、地域の人たちにも
その保全に参加してもらう普及活動を
1回実施できます。

1年間、その支援を継続すると…

ロシアでケガをしたトラを
野生復帰させるためのリハビリ活動を
6日間、支えることができます。

© Ola Jennersten / WWF-Sweden

1年間、その支援を継続すると…

スマトラの熱帯林で、
違法伐採や野生動物の密猟を防ぐパトロールを
14日間、支えることができます。

毎月この金額を一年ご寄付頂くと…

南米のチリで海の大切さを伝え、地域の人たちにも
その保全に参加してもらう普及活動を
1回実施できます。

毎月この金額を一年ご寄付頂くと…

ロシアでケガをしたトラを
野生復帰させるためのリハビリ活動を
6日間、支えることができます。

© Ola Jennersten / WWF-Sweden

毎月この金額を一年ご寄付頂くと…

スマトラの熱帯林で、
違法伐採や野生動物の密猟を防ぐパトロールを
14日間、支えることができます。

会員になる(毎月支援)
寄付をする(1度だけ支援)
World to governments: It's your turn to lead on climate change
---
WWF Head of Delegation Samantha Smith issued the following statement Tuesday about the UN Climate Summit in New York City:
"Every part of society showed up and delivered here at the Summit, with the exception of world leaders who still have a lot of work to do. Make no mistake - this was a historic moment, with 120 heads of state, 400,000 citizens taking to the streets, sector-busting corporate commitments, and inspiring leadership from cities and the faith community.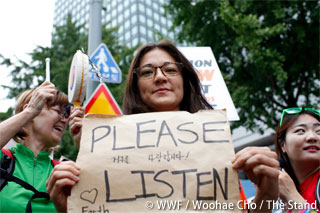 "But we're still waiting for governments to ratchet up their ambition and deliver global, system-wide change on the scale needed to solve the climate crisis. A laundry list of modest country actions is not an effective strategy to fight runaway carbon pollution.
"All the while, the atmospheric news is only getting worse. Emissions are rising faster than ever - this year alone global emissions rose 2.3 percent in 2013, and US emissions went up 2.9 percent.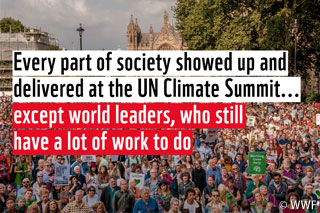 "Despite the smog, the message is clear: we desperately need action on climate change. The historic crowds in the streets of New York City - and similar actions in other cities around the world this week - demonstrate the rising tide of public support for ambitious action.
"That rallying cry was amplified by many other groups, from faith leaders, to youth groups to civil society, and even big business. We saw critical corporate leadership - from company actions to tri-sector coalitions - on issues like deforestation and 100 per cent renewable energy. Even the finance community made unprecedented commitments to pull money out of polluting investments.
"This summit was world leaders' turn to start matching those commitments, and for the most part, they have yet to deliver.

"One bright spot was that Latin America's leaders came prepared and gave us a vision of a renewable energy future. Their commitments included crucial pledges on deforestation and are all about action now in the critical years where emissions need to start coming down. This Latin American leadership, from countries including Mexico, Nicaragua, Chile, and Costa Rica, sets the stage for strong progress at the negotiations in Peru later this fall. We'll be counting on those countries to help ramp up the ambition of the talks on the road to Paris next year."
人と自然が調和して
生きられる未来を目指して
WWFは100カ国以上で活動している
環境保全団体です。