あなたの支援が必要です!

© Natalie Bowes / WWF-Canada

1年間その支援を継続すると…

南米のチリで海の大切さを伝え、地域の人たちにも
その保全に参加してもらう普及活動を
1回実施できます。

1年間、その支援を継続すると…

ロシアでケガをしたトラを
野生復帰させるためのリハビリ活動を
6日間、支えることができます。

© Ola Jennersten / WWF-Sweden

1年間、その支援を継続すると…

スマトラの熱帯林で、
違法伐採や野生動物の密猟を防ぐパトロールを
14日間、支えることができます。

© Natalie Bowes / WWF-Canada

毎月この金額を一年ご寄付頂くと…

南米のチリで海の大切さを伝え、地域の人たちにも
その保全に参加してもらう普及活動を
1回実施できます。

毎月この金額を一年ご寄付頂くと…

ロシアでケガをしたトラを
野生復帰させるためのリハビリ活動を
6日間、支えることができます。

© Ola Jennersten / WWF-Sweden

毎月この金額を一年ご寄付頂くと…

スマトラの熱帯林で、
違法伐採や野生動物の密猟を防ぐパトロールを
14日間、支えることができます。

会員になる(毎月支援)
寄付をする(1度だけ支援)
あなたの支援が必要です!

© Natalie Bowes / WWF-Canada

1年間その支援を継続すると…

南米のチリで海の大切さを伝え、地域の人たちにも
その保全に参加してもらう普及活動を
1回実施できます。

1年間、その支援を継続すると…

ロシアでケガをしたトラを
野生復帰させるためのリハビリ活動を
6日間、支えることができます。

© Ola Jennersten / WWF-Sweden

1年間、その支援を継続すると…

スマトラの熱帯林で、
違法伐採や野生動物の密猟を防ぐパトロールを
14日間、支えることができます。

毎月この金額を一年ご寄付頂くと…

南米のチリで海の大切さを伝え、地域の人たちにも
その保全に参加してもらう普及活動を
1回実施できます。

毎月この金額を一年ご寄付頂くと…

ロシアでケガをしたトラを
野生復帰させるためのリハビリ活動を
6日間、支えることができます。

© Ola Jennersten / WWF-Sweden

毎月この金額を一年ご寄付頂くと…

スマトラの熱帯林で、
違法伐採や野生動物の密猟を防ぐパトロールを
14日間、支えることができます。

会員になる(毎月支援)
寄付をする(1度だけ支援)
China, US send powerful signal to global climate talks
---
(GLAND, Switzerland, 12 November, 2014) Today's announcement by the world's two biggest carbon emitters - China and the US - of new emissions reduction targets sends a powerful political signal: there will be global action on climate change and a global UN climate agreement in 2015.
WWF's Global Climate and Energy Initiative leader Samantha Smithsays all governments must now step up the pace and scale of their commitments to the UN climate negotiations. "They could start at the G20 meeting this weekend, by announcing an end to the US$88 billion that each year goes to find more fossil fuels, the very things that are driving climate change," she says.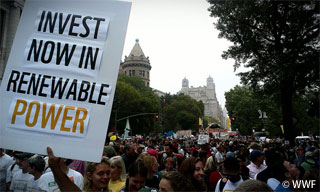 "We have a year before the global climate negotiations in Paris, and that year just got off to a good start. But these new targets from China and the US must be seen as opening bids in the negotiations, rather than final numbers. Both climate science and equity require more action," Smith says.
WWF-China CEO Sze Ping LOapplauded China's announcement to put a carbon peak and commit to exercise its right to develop within environmental limits. "Leaders from the major economies are responding to the people's voices at the UN Climate Summit in New York and the latest climate science of the IPCC. This should encourage all other major emitters and UNFCCC parties to announce their emissions reductions targets and finance commitments early next year."
"Game on," says Lou Leonard, WWF-US vice president, climate change. "The planet's leading emitters have put the rest of the world on notice: It's time to act. But while this is an historic step for the US and China, both countries need to push for the strongest goals possible to give the world a fighting chance to stay below 2°C of warming. In the case of the US, its earlier pledge to reach 30 per cent reductions by 2025 should be a benchmark for any final global climate agreement."
人と自然が調和して
生きられる未来を目指して
WWFは100カ国以上で活動している
環境保全団体です。