あなたの支援が必要です!

© Natalie Bowes / WWF-Canada

1年間その支援を継続すると…

南米のチリで海の大切さを伝え、地域の人たちにも
その保全に参加してもらう普及活動を
1回実施できます。

1年間、その支援を継続すると…

ロシアでケガをしたトラを
野生復帰させるためのリハビリ活動を
6日間、支えることができます。

© Ola Jennersten / WWF-Sweden

1年間、その支援を継続すると…

スマトラの熱帯林で、
違法伐採や野生動物の密猟を防ぐパトロールを
14日間、支えることができます。

© Natalie Bowes / WWF-Canada

毎月この金額を一年ご寄付頂くと…

南米のチリで海の大切さを伝え、地域の人たちにも
その保全に参加してもらう普及活動を
1回実施できます。

毎月この金額を一年ご寄付頂くと…

ロシアでケガをしたトラを
野生復帰させるためのリハビリ活動を
6日間、支えることができます。

© Ola Jennersten / WWF-Sweden

毎月この金額を一年ご寄付頂くと…

スマトラの熱帯林で、
違法伐採や野生動物の密猟を防ぐパトロールを
14日間、支えることができます。

会員になる(毎月支援)
寄付をする(1度だけ支援)
あなたの支援が必要です!

© Natalie Bowes / WWF-Canada

1年間その支援を継続すると…

南米のチリで海の大切さを伝え、地域の人たちにも
その保全に参加してもらう普及活動を
1回実施できます。

1年間、その支援を継続すると…

ロシアでケガをしたトラを
野生復帰させるためのリハビリ活動を
6日間、支えることができます。

© Ola Jennersten / WWF-Sweden

1年間、その支援を継続すると…

スマトラの熱帯林で、
違法伐採や野生動物の密猟を防ぐパトロールを
14日間、支えることができます。

毎月この金額を一年ご寄付頂くと…

南米のチリで海の大切さを伝え、地域の人たちにも
その保全に参加してもらう普及活動を
1回実施できます。

毎月この金額を一年ご寄付頂くと…

ロシアでケガをしたトラを
野生復帰させるためのリハビリ活動を
6日間、支えることができます。

© Ola Jennersten / WWF-Sweden

毎月この金額を一年ご寄付頂くと…

スマトラの熱帯林で、
違法伐採や野生動物の密猟を防ぐパトロールを
14日間、支えることができます。

会員になる(毎月支援)
寄付をする(1度だけ支援)
Lima talks to test political will for global climate deal
---
GLAND, Switzerland -UN climate talks opening in Lima on 1 December will be pivotal to gauge political will for a new global climate deal. Governments are expected to agree on the outline of an agreement to be approved in Paris in 2015.
With overwhelming scientific evidence of the increased rate and impact of climate change, it is essential that governments make climate change a top political priority and leave Lima with a strong foundation for success in Paris.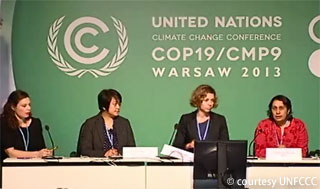 "Make no mistake. COP20 is a litmus test for political will for urgent action on climate, and specifically for an ambitious and equitable global agreement on climate change," said Tasneem Essop, WWF's Head of Delegation to the UN Framework Convention on Climate Change.
Adding to the urgency, the unprecedented call for action by citizens across the world in recent months demonstrates that governments have to step up the pace and scale of their commitments to the climate negotiations.
"We know the consequences of inaction and it's no longer good enough to say that it's too politically difficult to act," said Samantha Smith, leader of WWF's Global Climate and Energy Initiative.
"We have one year to the Paris meeting. We are off to a good start with 'opening bids' by China, the US and the European Union all pledging to reduce emissions. The financial commitments made by a number of countries earlier this month also lends much needed political momentum to the talks," Smith said.
WWF's expects that governments coming to Lima will act with urgency to close the emissions gap, including by scaling up renewable energy consumption to 25 per cent and doubling energy efficiency by 2020.
In order to help build a safe future for us all, especially the vulnerable, the elements of a new climate deal should include a global goal to help countries manage the impacts of climate change. Forests should be included in the 2015 agreement as should a commitment to support actions to curb deforestation.
Any new agreement must also place science and equity at its center. Governments should agree on a carbon budget and a long-term goal of phasing out fossil fuels and ensuring 100 per cent renewable energy by 2050.
Countries that have not made financial commitments to the Green Climate Fund should use the opportunity of the COP 20 meeting in Lima to do so. Commitments of finance and support need to be at the scale required for ambitious action.
"We are meeting on a continent of developing countries that have already experienced devastating impacts of climate change through floods, glacier melts and extreme weather events. It is also a continent where we have witnessed strong actions to address climate change. This should spur all countries to be prepared to set aside their own national interests and act in the interests of the planet," said Essop.
人と自然が調和して
生きられる未来を目指して
WWFは100カ国以上で活動している
環境保全団体です。