あなたの支援が必要です!

© Natalie Bowes / WWF-Canada

1年間その支援を継続すると…

南米のチリで海の大切さを伝え、地域の人たちにも
その保全に参加してもらう普及活動を
1回実施できます。

© Vladimir Filonov / WWF

1年間、その支援を継続すると…

野生のトラが生息する東南アジアの森で行なう
カメラトラップ調査のトレーニングを
実施できます。

© Ola Jennersten / WWF-Sweden

1年間、その支援を継続すると…

スマトラの熱帯林で、
違法伐採や野生動物の密猟を防ぐパトロールを
14日間、支えることができます。

© Natalie Bowes / WWF-Canada

毎月この金額を一年ご寄付頂くと…

南米のチリで海の大切さを伝え、地域の人たちにも
その保全に参加してもらう普及活動を
1回実施できます。

© Vladimir Filonov / WWF

毎月この金額を一年ご寄付頂くと…

野生のトラが生息する東南アジアの森で行なう
カメラトラップ調査のトレーニングを
実施できます。

© Ola Jennersten / WWF-Sweden

毎月この金額を一年ご寄付頂くと…

スマトラの熱帯林で、
違法伐採や野生動物の密猟を防ぐパトロールを
14日間、支えることができます。

会員になる(毎月支援)
寄付をする(1度だけ支援)
Brutal murder of villager sees NGOs suspend participation in APP consultations
---
Pekanbaru, Indonesia:WWF-Indonesia and other NGOs have pulled out of consultations with Asia Pulp and Paper (APP) until it is clear that the apparent murder of a Sumatran villager last Friday by security guards of an APP supplier receives justice and the company resolves the conflict with his village as its first concrete step to address hundreds of social conflicts around its operations in Indonesia.
The bound, bruised and stabbed body of Indra Kailani (23) of Lubuk Mandarsah village was found in forest seven kilometres from a guardpost where he was last seen being beaten by multiple security guards of APP sister company and supplier PT. Wirakarya Sakti (WKS) in Bukit Tigapuluh landscape, Jambi Province, Sumatra.
By the time around 30 villagers who had gathered for a harvest festival had come to the guardpost, they were told Indra was no longer there. According to local NGO Walhi Jambi, Indra's body was located on the weekend following a phone call by a WKS security guard to a Walhi activist.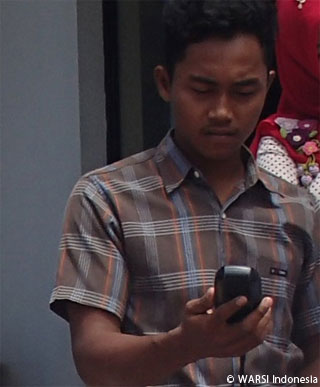 "We have known Indra through our forest monitoring training as a part of European Union's "Forest Law Enforcement, Governance and Trade (FLEGT)" funded project, co-organized by WWF and Warsi. We will miss him. Our hearts are with his family," said Aditya Bayunanda, Forest Commodity Leader WWF-Indonesia.
"We urge Jambi Police to conduct swift and conclusive investigation and the Sinar Mas Group and APP to fully cooperate and be transparent in the investigation.
"WWF has decided to suspend further discussion with APP on conservation issues until we see a significant closure of this conflict."
In a statement issued by APP, the company has "required PT Wirakarya Sakti to suspend all of the personnel alleged to be involved in the incident including security officers, the commander of the District Eight security team and the head of security at contractor PT MCP". APP has said it will assist the investigation.
"We hope that justice is done this time, unlike 2010 and 2012 cases in which two farmers were killed under similar circumstances arising from social conflicts with APP suppliers in Jambi and Riau," said Riko Kurniawan, Executive Director of Walhi Riau, a member of Sumatra NGO coalition Eyes on the Forest (EoF)
Earlier this year, a joint NGO evaluation of APP's social conflict resolution efforts demonstrated serious lack of progress in resolving the many conflicts APP and suppliers have with communities.
"This incident appears to be only the tip of an iceberg. Indra's village has had long-lasting conflict with WKS. There are hundreds of such conflicts between local people and SMG/APP suppliers in Sumatra and Kalimantan," said Muslim Rasyid, Coordinator of Jikalahari, another member of the EoF coalition
"We call on SMG/APP to put serious efforts into resolving these conflicts as soon as possible."
The joint NGO assessment of APP's progress found that Lubuk Mandersah was one of five villages where APP had "failed to inform communities about its policies, establish agreed conflict resolution processes with the community and NGO advisors, respond to community complaints in a timely way or register community complaints using its grievance mechanism".
In 2014, EoF investigation of illegal activities on the APP corridor has uncovered that security personnel of another APP supplier, PT. Tebo Multiagro, were sometimes involved in illegal logging activities. APP had promised stern actions to correct this but it is still unclear whether any have been implemented.
Notes:
EoF reported in 2008 that Lubuk Mandarsah villagers burned WKS cars after the company destroyed their crops. http://www.eyesontheforest.or.id/index.php?page=news&action=view&id=155 The joint NGO evaluation report detailing APP's lack of community conflict resolution also reported on the conflict between APP and Lubuk Mandarsah and other communities:http://www.ran.org/app_social_commitment_performance_2015_full_report Two previous cases of deadly results of community conflicts are reported. 2012 case in Riau: see Chapter 5.4.1 of http://eyesontheforest.or.id/attach/Anti%20Forest%20Mafia%20Coalition%20(18Mar14)%20SVLK%20Flawed%20FINAL.pdf and 2010 case in Jambi: http://www.eyesontheforest.or.id/index.php?page=news&action=view&id=305 Walhi Jambi published its accounts on the case here: http://www.walhi-jambi.com/2015/03/biadab- penggunaan-kekerasan-didalam.html
人と自然が調和して
生きられる未来を目指して
WWFは100カ国以上で活動している
環境保全団体です。