あなたの支援が必要です!

© Natalie Bowes / WWF-Canada

1年間その支援を継続すると…

南米のチリで海の大切さを伝え、地域の人たちにも
その保全に参加してもらう普及活動を
1回実施できます。

© Vladimir Filonov / WWF

1年間、その支援を継続すると…

野生のトラが生息する東南アジアの森で行なう
カメラトラップ調査のトレーニングを
実施できます。

© Ola Jennersten / WWF-Sweden

1年間、その支援を継続すると…

スマトラの熱帯林で、
違法伐採や野生動物の密猟を防ぐパトロールを
14日間、支えることができます。

© Natalie Bowes / WWF-Canada

毎月この金額を一年ご寄付頂くと…

南米のチリで海の大切さを伝え、地域の人たちにも
その保全に参加してもらう普及活動を
1回実施できます。

© Vladimir Filonov / WWF

毎月この金額を一年ご寄付頂くと…

野生のトラが生息する東南アジアの森で行なう
カメラトラップ調査のトレーニングを
実施できます。

© Ola Jennersten / WWF-Sweden

毎月この金額を一年ご寄付頂くと…

スマトラの熱帯林で、
違法伐採や野生動物の密猟を防ぐパトロールを
14日間、支えることができます。

会員になる(毎月支援)
寄付をする(1度だけ支援)
Frolicking family video shows China's tiger population roaring back
---
Wangqing, China - Rare video of a protective tigress and her playful cubs 30 kilometers from the Russian border is evidence that wild Amur tigers are returning to China. The footage captured by a WWF camera trap is the first infrared video of a tiger family so deep into China.
In the past, elusive paw prints have been the only evidence of Amur tigers so distant from the border area. The WWF video of the tiger family is the result of decades of conservation work aimed at establishing an inland breeding Amur tiger population in China.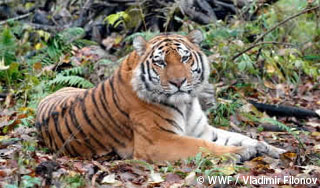 The two stars of the ten-second video - tiger cubs that have yet to be named - were confirmed to be approximately one-and-a-half years old by Professor Jiang Guangshun, Executive Vice-Director of China's State Forestry Administration's Feline Research Center.
"This video proves that wild Amur tiger populations are steadily spreading into inland China and are settling down," said Shi Quanhua, Senior Manager of the WWF-China Asian Big Cats Program. "Many years of conservation work have led to this stunning footage - establishing conservation areas, building a population of prey animals and installing over one hundred infrared cameras in largely inaccessible areas."
WWF's Amur Tiger Conservation Plan designated China's combined Wangqing-Hunchun-Suiyang-Dongning Area as a priority zone for wild Amur tiger conservation in 2010. Conservation projects in the area include the reintroduction of tiger prey, such as deer, and the maintenance of corridors that allow China's tiger population to move freely. WWF's work in the region is strongly supported by the Jilin Provincial Forestry Department.
"A shortage of prey presented a major threat to wild Amur tigers," said Shi. "We worked to restore the Amur tiger's prey populations through habitat restoration and anti-poaching efforts. Now, with the appearance of this one-of-a-kind video, it's clear that all of the hard work to bring back wild Amur tigers is paying off."
Amur tigers were once found throughout northern China, the Russian Far East and the Korean peninsula. By the 1940s, hunting had driven them to the brink of extinction--with no more than 40 individuals remaining in the wild. Russia was the first country to grant the tiger full protection, saving the species and bringing today's global population to about 400 individuals with the majority living in Russia and at least 18-20 adult individuals in the border areas of China.
"These images show that Wangqing Nature Reserve has now become a breeding site for Amur tigers. Seeing these positive outcomes from our efforts greatly strengthens our confidence that wild Amur tiger populations can be restored," said Wang Fuyou, division head of the Wangqing Nature Reserve conservation department.
WWF is working with all tiger countries to achieve the 'Tx2' goal of doubling the wild tiger population by 2022, the next Chinese Year of the Tiger. Tigers are endangered, with as few as 3200 wild tigers left. In 2014 all tiger governments agreed to count their tigers so a new global tiger population figure could be released in 2016, the halfway point in the 'Tx2' goal.
人と自然が調和して
生きられる未来を目指して
WWFは100カ国以上で活動している
環境保全団体です。