あなたの支援が必要です!

© Natalie Bowes / WWF-Canada

1年間その支援を継続すると…

南米のチリで海の大切さを伝え、地域の人たちにも
その保全に参加してもらう普及活動を
1回実施できます。

1年間、その支援を継続すると…

ロシアでケガをしたトラを
野生復帰させるためのリハビリ活動を
6日間、支えることができます。

© Ola Jennersten / WWF-Sweden

1年間、その支援を継続すると…

スマトラの熱帯林で、
違法伐採や野生動物の密猟を防ぐパトロールを
14日間、支えることができます。

© Natalie Bowes / WWF-Canada

毎月この金額を一年ご寄付頂くと…

南米のチリで海の大切さを伝え、地域の人たちにも
その保全に参加してもらう普及活動を
1回実施できます。

毎月この金額を一年ご寄付頂くと…

ロシアでケガをしたトラを
野生復帰させるためのリハビリ活動を
6日間、支えることができます。

© Ola Jennersten / WWF-Sweden

毎月この金額を一年ご寄付頂くと…

スマトラの熱帯林で、
違法伐採や野生動物の密猟を防ぐパトロールを
14日間、支えることができます。

会員になる(毎月支援)
寄付をする(1度だけ支援)
あなたの支援が必要です!

© Natalie Bowes / WWF-Canada

1年間その支援を継続すると…

南米のチリで海の大切さを伝え、地域の人たちにも
その保全に参加してもらう普及活動を
1回実施できます。

1年間、その支援を継続すると…

ロシアでケガをしたトラを
野生復帰させるためのリハビリ活動を
6日間、支えることができます。

© Ola Jennersten / WWF-Sweden

1年間、その支援を継続すると…

スマトラの熱帯林で、
違法伐採や野生動物の密猟を防ぐパトロールを
14日間、支えることができます。

毎月この金額を一年ご寄付頂くと…

南米のチリで海の大切さを伝え、地域の人たちにも
その保全に参加してもらう普及活動を
1回実施できます。

毎月この金額を一年ご寄付頂くと…

ロシアでケガをしたトラを
野生復帰させるためのリハビリ活動を
6日間、支えることができます。

© Ola Jennersten / WWF-Sweden

毎月この金額を一年ご寄付頂くと…

スマトラの熱帯林で、
違法伐採や野生動物の密猟を防ぐパトロールを
14日間、支えることができます。

会員になる(毎月支援)
寄付をする(1度だけ支援)
WWF applauds expulsion of non-reporting palm oil companies, action now needed on non-performers
---
March 5, 2015 - WWF welcomes the announcement that the Roundtable on Sustainable Palm Oil (RSPO) has taken action against members that are not fulfilling basic membership obligations intended to contribute to a more transparent, environmentally sustainable and socially responsible palm oil industry.
The RSPO has announced the expulsion of 15 companies and organizations that have failed for three consecutive years to submit the required annual reports on their progress towards certifying palm oil operations or purchasing certified sustainable palm oil A further 62 have had their memberships suspended for failing to submit reports for two consecutive years.
"We hope that this is a sign that the RSPO and its membership are now taking seriously not only the need to report progress but also to show progress" said Adam Harrison, WWF's lead on palm oil.
"The duty to continuously improve performance is central to the founding vision of the RSPO and this applies not only to the organization as a whole but more importantly to its individual members."
WWF urges the RSPO to continue to push its membership to deliver on its commitments and will continue to track the progress of individual companies in relation to their production and use of sustainable palm oil.
"WWF remains concerned that, according to the RSPO itself, only 57 of the 119 registered growers in the RSPO have any certified mills. That leaves more than half of them making no progress on their commitments," added Harrison. ''Additionally, only a little over two-thirds of the 1500 RSPO supply chain member companies are currently certified to actually use CSPO.''
"While some leading members of the RSPO are doing well and delivering on their promises, too many are still doing nothing. The RSPO needs to go beyond disciplining non-reporting members and now find ways to make sure all members are taking action to transform the industry."
The list of terminated and suspended RSPO members can is available at: http://www.rspo.org/members/terminated-and-suspended-members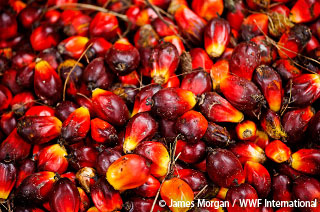 人と自然が調和して
生きられる未来を目指して
WWFは100カ国以上で活動している
環境保全団体です。